Art Basel: Exclusive Eats & Custom Designed Sushi Board
Blog Post 11/30/2022
The 20th year celebration of Art Basel in Miami is upon us! This year we are serving up a fusion of culinary art and graphic design, thanks to the creative collab efforts of Chef Jose Mendín and Latin Grammy-winning Artist Pedro Fajardo.
Exclusively available December first through sixth, enjoy our WAGYU Basel Temari Sushi. The surf & turf style sphere-shaped sushi is made with premium wagyu beef, lobster mix, truffle, gold dust, and more, and is served on a board that is custom designed by Fajardo, who utilized his signature "collage" technique. For $50, you will receive the roll and board (which is YOURS to take home after your dine!), or opt for the roll only for $35.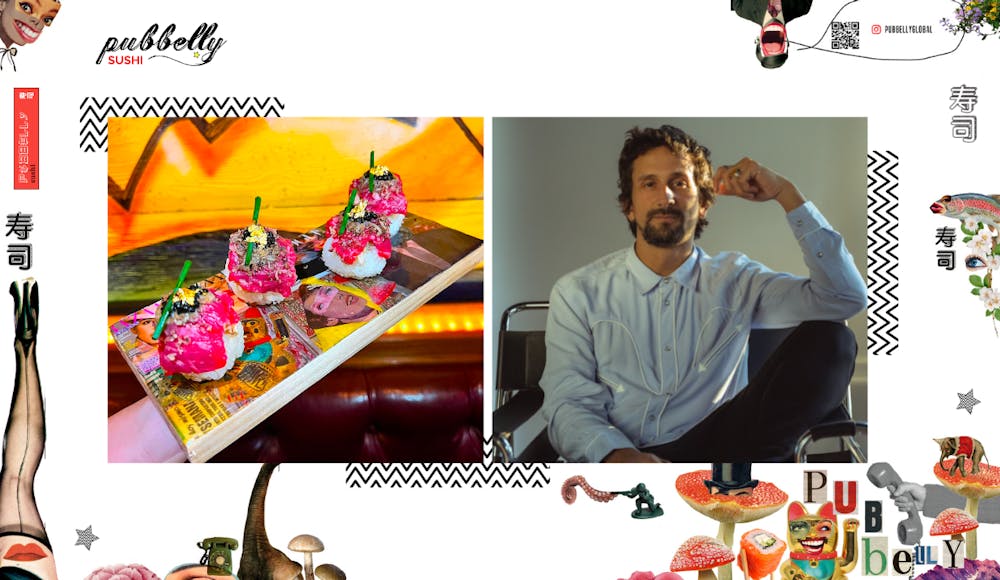 Behind the scenes: Interview with Fajardo & Mendín
Why did you decide to partner with Pubbelly Sushi?
Fajardo: I love the food at Pubbelly and the graphic design of the brand is intentionally made to look disorganized. Every piece has a 'why'. It looks super cool, a mix of many cultures and concepts. The idea of having a plate that guests can take home is fulfilling to me as an artist. It is important to me that every board is unique and looks distinct.
Can you describe your signature collage technique?
Fajardo: The composition is made up of one piece mixed with another that tells a story. There is something to discover in each piece. Every part has a mini story to tell, but when you put it all together it's one big story.
Why did Pubbelly Sushi partner with Pedro Fajardo?
Mendín: "Fajardo is a beloved member of both the city of Miami as well as the Latin American community," said Mendín. "His edgy-classic style was perfect for the look we wanted for this initiative, and we loved that he was passionate about custom-making each item. We are excited to welcome in the community and send them home a tangible reminder of the art, event, and experience."